Bee Buddies
Groundwork Sheffield`s Bee Buddies project responds to the national crisis of Honeybee population decline and the lack of awareness surrounding the plight of the Honeybee. 33% of Honeybee colonies were lost in 2009. The British Bee Keeping Association ( BBKA ) has stated that if action is not taken Honeybees will disappear from Britain by 2018.
Honeybees are vital to our survival. They allow 70% of flowering plants to reproduce, accounting for over 30% of the foods and beverages we consume. Without the pollination they provide we will face higher food costs and potential food shortages.
Restore Our Planet is funding the installation of 5 Honeybee hives on the roof of Weston Park Museum in central Sheffield. The museum serves as a prime location to engage the public about the Honeybee`s plight and demonstrate that bees can thrive in cities. Overall the project will see the introduction of 35 hives and the creation of 20,000m2 of Honeybee habitat.
The bee buddies project aims to restore Honeybee populations by installing domestic hives on underused urban spaces such as balconies and green roofs. This will improve local biodiversity and pollination rates. The hives will be used to train a new generation of bee keepers and educate local schools on local food production and bee keeping.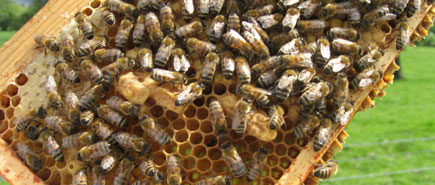 Photo: © Groundwork Sheffield
BACK