House sparrows in schools
The house sparrow – one of our commonest and most familiar birds – has declined by two thirds since 1970.
The 'House Sparrows in Schools Project' supported by Restore Our Planet had four main aims: To raise awareness in schools of the importance of house sparrow populations and make links to the wider issues of decline in familiar countryside birds; to involve children in a practical conservation project in school grounds; to deliver practical conservation measures to sustain house sparrow populations; and to pilot a summer House Sparrow breeding survey.
50 primary schools across East Anglia were provided with nest boxes, and free food for 3 years. They were also provided with I'm in Trouble information packs and a fun assembly presentation. Restore fully funded the nest boxes, bird tables and school mailing.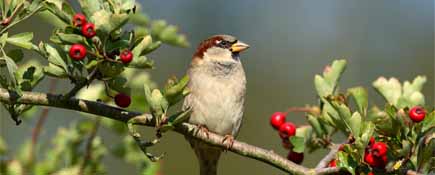 House sparrow Passer domesticus, perched on twig with berries.
Photo: © Sue Tranter (rspb-images.com)
BACK