Gloucestershire Wildlife Trust
Lower Woods Nature Reserve – sustainable woodland management
Lower Woods is one of the largest ancient woodlands in the south-west, and a Site of Special Scientific Interest. The traditional woodland management technique of coppicing was carried out over centuries, which meant trees of varying ages were found throughout the wood, so there was always somewhere different for a range of plants, fungi, invertebrates and birds. The abandonment of coppicing and loss of dense scrub meant that species like nightingales were lost, but the reintroduction of this management practice by Gloucestershire Wildlife Trust (GWT) has resulted in many species making a comeback.
Following on from Restore Our Planet providing funding for GWT to develop a showcase of sustainable woodland management, the Trust has continued this important work through a number of follow-on projects.
GWT has been undertaking selective felling of non-native conifer species, planted after WWII, specifically targeting veteran Oak trees which had become shaded by these quicker growing species. Felling around the trees, haloing them, aids 'slow release' so the Oaks are not immediately exposed to high winds for example, and allows them to grow naturally following years of competing with straight, fast growing evergreen conifers.
GWT also felled Ash trees along Public Rights of Way to protect future veteran trees. There has been significant Ash felling, a problem not envisaged 10 years ago, to maintain public safety. The main routes through the wood were targeted, including the scalloping of ride edges to remove uniform straight edges to increase micro-habitats. This will allow for the development of wide, grassy/scrubby rides, and eliminate harsh grassland/woodland boundaries
An on-site tree nursery has been established to grow seeds collected from the woods to be planted in areas dominated by Ash trees. Natural selection will be the favoured option, but planting will be where needed, especially in areas of conifer plantation.
Ride work has been undertaken along selective routes to restore them to their former glory. This includes Abrahams Walk, once known as 'Adder Bank' where these stunning reptiles could be reliably seen. The ride has become overshaded, and the work has opened it up for the first time in decades. As above, scalloped edges, with veteran trees remaining, to increase microhabitats and remove uniform grassland/woodland boundaries.
Lower Woods panorama.
Photo: © Mike Martin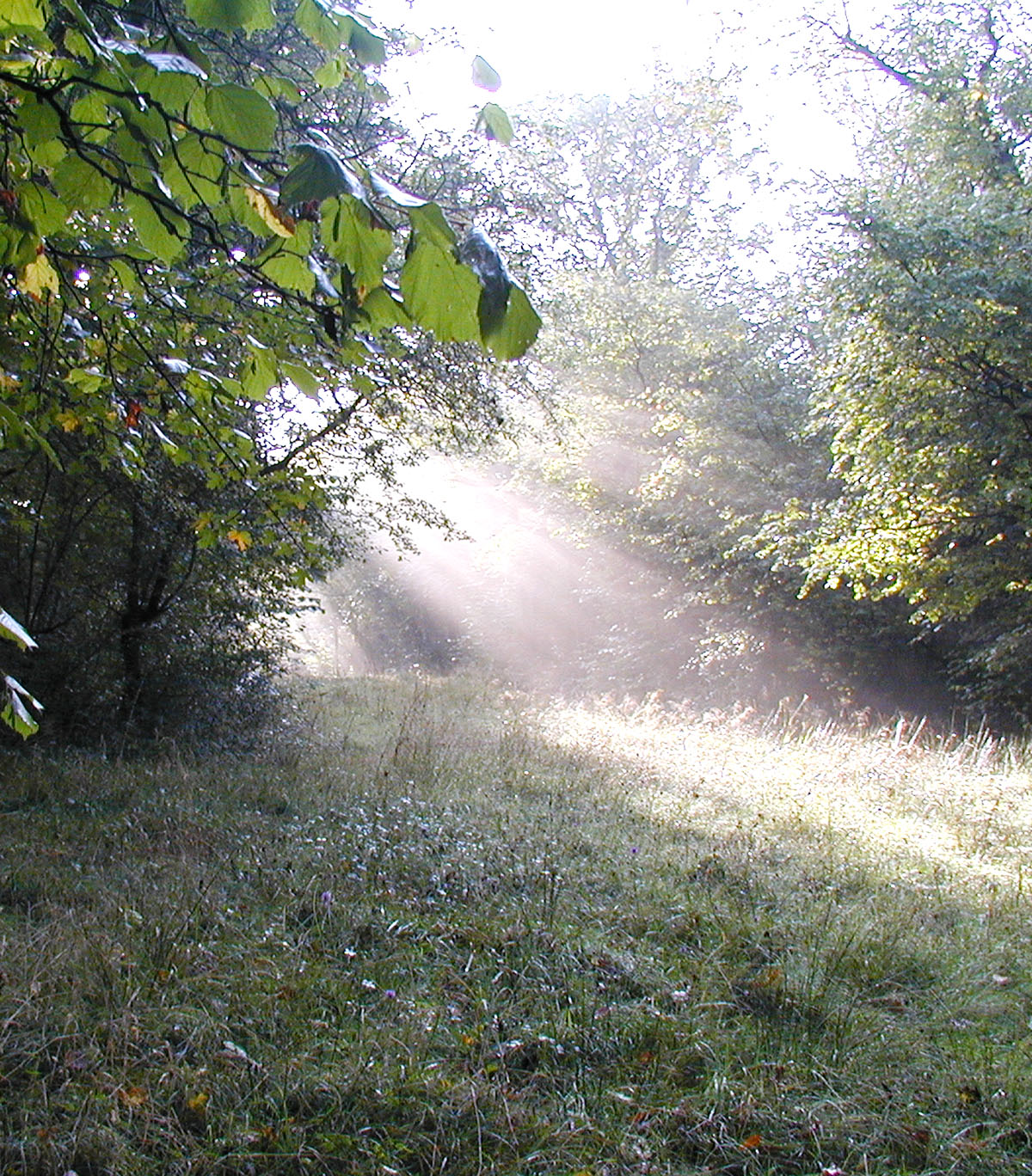 Lower Woods.
Photo: © Mike Martin
BACK