Old Sulehay habitat protection
Old Sulehay, on the Northamptonshire/Peterborough border is a very special area of ancient woodland and limestone grassland full of flowers insects and animals, both common and scarce.
The Oolitic limestone in north Northamptonshire and Peterborough lies on the Lincolnshire limestone, with considerable ancient woodland remaining on the boulder clay areas, it is a landscape with a high concentration of sites that are already important for wildlife and is one of the few areas where a diverse mosaic of wildlife rich habitats occur next to each other. The Trust's ultimate vision is to link 18 SSSI/NNR/CWS sites totalling 400 hectares of which this is one.
To this end Restore Our Planet's donation was used specifically for the purchase of 3 adjoining areas: Ring Haw, Nassington Gullet and associated arable farmland in all totalling 39 hectares. Since purchase limestone grassland creation works are ongoing with managed grazing introduced to the marshland and scrub areas.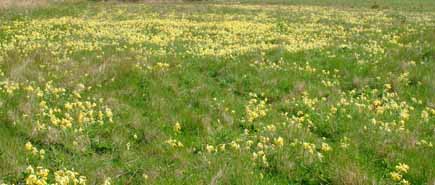 Cowslips at Old Sulehay. Photo: © BCNP
BACK