Wildfowl & Wetlands Trust
Water Vole Conservation – London wetlands Centre Barnes
The Wildfowl and Wetlands Trust was founded in 1946 by Sir Peter Scott, whose aim was 'to establish a centre for the scientific study, public display, and conservation of the wildfowl of the world'.
Today they are a world leader for the protection of swans, geese, ducks and flamingos and work to save and restore ponds, lakes, rivers and other wetlands with associated wildlife and plants. Over the last century, in the UK alone, half of our wetlands have been lost; and globally the loss of wetlands is accelerating as populations increase and competition for resources soar.
WWT have recently begun the Water Vole Conservation Project to introduce conservation areas to promote the recovery of water vole populations that current estimates suggest has declined by over 94% in the last century. This due predominantly to destruction and pollution of habitat. To achieve their recovery it is important that WWT: manage and restore habitat through the establishment of appropriate emergent vegetation – including reeds, yellow flag and sedges;diversify the water course structures and create pools where appropriate. To this end a 3 year management program has been initiated at the London Wetlands Centre, Barnes.
Restore Our Planet is funding this project, including the purchase of specialist tools and equipment vital to the habitat restoration and management, as well as for the essential pest control and monitoring activity.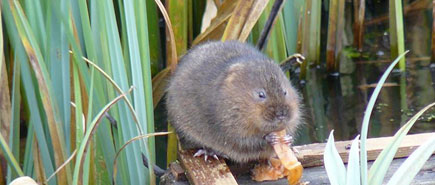 Water vole on one of the new feeding platforms at the site.
Photo: © WWT
BACK