One Tree Campaign – Mumias
'In Africa for every 28 trees cut down only one is re-planted. We believe that every time one tree gets chopped down, another tree should be planted.' Seeds for Africa's 'One Tree' campaign, is geared towards planting fruit trees to alleviate poverty and preserve the natural environment.
The campaign plants fruit trees across Africa in under-privileged schools and communities, providing training in gardening skills that bestow independence, encourage nutritious diets, and secure reliable sources of food for their future.
We have helped provide funding for 1000 fruit trees to be planted across a number of schools in the Mumias region of Western Kenya, SfA's Agricultural Coordinator for Kenya gas carefully selected the following schools to benefit from the project. Mayoni primary school, Namulung A.C.K primary school, Mtungu primary school and Mukhweya primary school. This includes the provision of saplings, equipment, a water harvesting kit, (10,000 litre metal tank linked to schools roofs via guttering) and the training necessary to grow and sustain the fruit tree orchards.
Participants learn agricultural skills which benefit them for life, and the project provides sustainable fruit production for communities lacking in food security and quality.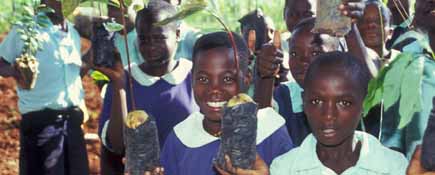 Kenyan schoolchildren planting for Seeds for Africa
BACK