Greenpeace Environmental Trust
Developing a Low Carbon Future
The clean, efficient and renewable technologies that can heat our homes, power our vehicles and keep the lights on already exist. The global shift towards these clean alternatives has already begun but we need to work much harder if we are to meet our climate change targets required to protect our planet. For the last two years more was invested globally in clean energy production than fossil fuels and nuclear energy.
In 2011 it is expected that China will invest more in clean energy than fossil fuels. Currently Britain is lagging behind. Greenpeace plans to undertake a number of research projects that they have identified as crucially important in educating the public and decision-makers about how we become a low carbon society.
Specific activities within the project will include: commissioning of joint NGO policy report to show how UK incentives could be in the right place for sustainable biomass production; developing the terms of reference with Oxford University to prepare for researching a report on a strategy for the building stock; feeding in to the Energy market Reform process; a long term vision looking at a sustainable energy system for 2030/2050.
The overall objective of this project is to ensure that decision-makers in the UK make the right choices in planning how we use and produce energy in the future.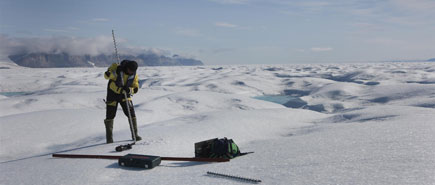 Installing 'expendable GPS' units on a glacier - these self powered units communicate with a base station, so if they are lost or damaged at sea or during break up, the data has already been transferred.
Photo: © Nick Cobbing, Greenpeace
BACK