Fight against Bird Hunting in Malta
The illegal hunting and trapping of birds is widespread across the Mediterranean.
Restore Our Planet have helped fund the work of the Hawk & Owl Trust with Birdlife Malta tackle the illegal killing of raptors over Malta where some 5,000 are killed every year. Hunters were monitored and arrests coordinated. A poster was also produced featuring raptors such as honey buzzards and marsh harriers migrating together with a report on how bird tourism could augment other visitors to Malta in the relevant months, if the hunting can be controlled.
In dealing with the issue of illegal trapping and hunting of birds Restore's long term focus is on the RSPB's campaign presently active in Cyprus and Malta. (For more detail see RSPB listing in Campaigns)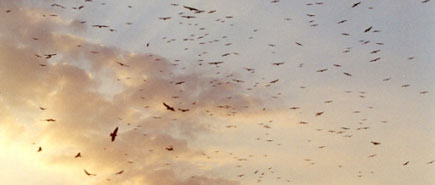 A 'kettle' of honey buzzards and marsh harriers.
Photo: © Hawk and Owl Trust
BACK