Producer Membership Recruitment Campaign
The Soil Association have a target to increase the number of organic farmers in the UK to 35%. Restore Our Planet's donation was to assist them in achieving this vision through increased publicity and support.
The Soil Association's 'Producer Membership Programme' provides a range of support to organic producers. This includes a free technical helpline with up-to-date technical and marketing information, online access to a range of technical literature and services, reduced rates for all training, farm visit service, and local support from one of their new regional offices. Our support was enabled the Soil Association to review their services and to expand promotional materials. This has enabled the them to attract 4000 new producers to become licensees of their scheme and to increase the number of enquiries to their conversion service by 42%.
Our grant also enable the Soil Association to demonstrate the support they offer to all organic producers, which was an integral part of securing a regional presence in four regions of England.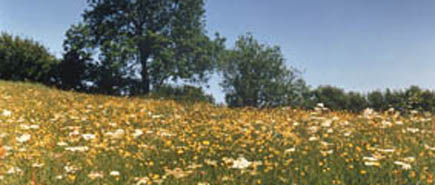 Wildflower meadows thrive on organic farms.
Photo: © Soil Association
BACK