Aspen Project
Trees for Life is an award winning charity working to restore the native Caledonian Forest to its former range in the Highlands of Scotland. Since 1989, it has planted over 1.3 million trees and has facilitated the natural regeneration of ancient forest remnants in Glen Affric and at other sites to the west of Inverness and Loch Ness. The charity also advocates the reintroduction of the missing species of wildlife that formerly lived in the forest, as they are essential for the reestablishment of a balanced, self-sustaining ecosystem.
Aspen is a key species within the Caledonian Forest, supporting a unique community of insects, fungi, mosses and lichens, some of which are rare and endangered. However, because aspen rarely flowers and almost never produces seeds, and is also highly palatable to deer, it has been reduced to small, isolated groups of trees. In 1991 Trees for Life launched a project to help restore aspen in the Highlands, focused on surveying and mapping the existing aspen stands, protecting selected groups of trees and propagating new aspens, with Restore Our Planet contributing funding towards the expansion of this work.
Trees for Life is now the largest producer in the Highlands of aspens by propagation from root cuttings, and has also achieved success with seed production in nursery conditions. The overall strategy is to reestablish aspen in the forest, linking up the isolated stands and returning the species to areas where it has disappeared, as well as creating improved habitat for beavers, which rely on aspen as winter food.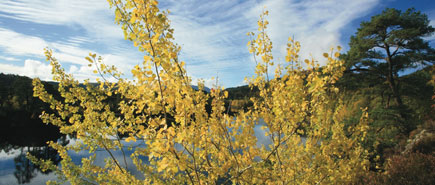 Aspen trees in autumn in Affric.
Photo: © Alan Watson/Forest Light
BACK