Malling Down Habitat protection
Only 3-5% of the South Downs remains in a species-rich state. Malling Down Nature Reserve is a 38.1 hectare reserve forming part of the Lewes Downs SAC/SSSI, situated just East of Lewes. It is one of the jewels in the crown of The South Downs.
In December 2001 Restore Our Planet provided match funding which has enabled the purchase of 98 acres of adjacent land, doubling the size of the reserve. The redundant farmland that was purchased, some of which had been in set-aside for 10 years, has benefited greatly from management by grazing. This has resulted in seeds from the downland plants starting to populate the newer areas and increasing the biodiversity.
In November 2002 a further donation was made, which has assisted the Trust in appointing a Conservation Grazing Officer to manage the Trust's flock of sheep.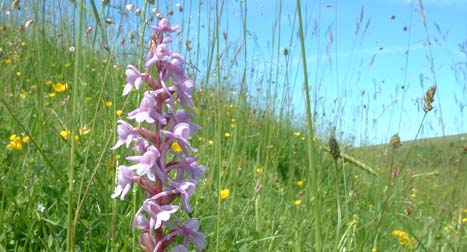 Fragrant orchid at Malling Down.
Photo: © SWT
BACK