Paradise Wood
The Earth Trust aims to promote and inspire wildlife and countryside conservation in Oxfordshire and beyond.Their key project objectives are to: develop and build on the national leadership in walnut and oak species, develop their research and forestry demonstration functions, to demonstrate the national biodiversity benefits of managing broadleaved plantations for timber production; promote the importance of the forestry industry within a sustainable countryside.
To this end they purchased 55 hectares of land at College Farm in order to establish a new woodland and centre for forestry research called Paradise Wood. The wood is situated on a flat former Floodplain in Oxfordshire. The first trees were planted in the winter of 1992 and by the end of 2000 42,000 trees had been planted across 21ha the completed woodland will cover 45-50 hectares and will comprise 75% broadleaves, 10% conifers, 5% coppice and 10% open ground.In 2001 Restore provided a specialist tractor to help manage Paradise Wood and funding to produce publicity material for the project.
Restore funded the purchase of a new Holland TC27D Tractor which has significantly aided the work of the Earth Trust across its 300 hectare estate. It's compact size and maneuverability enables a range of important tasks to be carried out from the transport of livestock using a trailer or link box through to the important task of mowing between trees in the Trust's research wood and newly planted Trafalgar Wood site.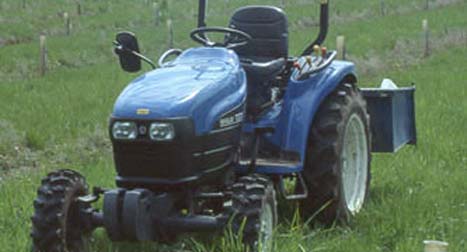 BACK