Sinodun Hills Landscape Biodiversity Project
The Sinodun Hills Project uses a landscape approach to conservation, by taking an existing site of high conservation value, the Wittenham Clumps, north east of Didcot, and extending semi-natural habitats outwards from it into the surrounding working landscape.
The project will restore and recreate 37 hectares of wildlife-rich lowland meadow.This will be achieved through grazing with native hardy breeds of cattle and sheep,implementing suitable hay-cutting regimes, turf removal and reseeding, broadcasting wildflower seed, green hay spreading and plug planting.
By creating this area of species rich neutral grassland, this project will make a direct and appreciable contribution to the recovery of this priority habitat. It will also guarantee benefits to BAP priority species present on site,such as the skylark, pipistrelle bat and hornet robber fly.
Restore Our Planet has provided Third Party Funding to ensure this project is able to proceed.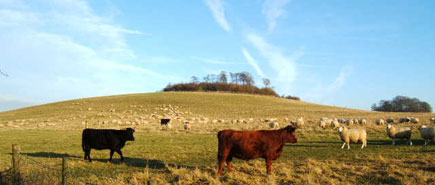 Hill grazing at Wittenham Clumps.
Photo: © Northmoor Trust
BACK