Bancyfelin Education Community Trust
Permanent Christmas Tree for Bancyfelin
Bancyfelin is a rural village of c. 110 houses located 5 miles west of Carmarthen. Over recent years a number of new homes have been built in the village and the number of pupils at the local school has risen significantly. Each year the residents of Bancyfelin obtain a 20/25ft Christmas tree for the village and this is decorated by the St. Clears Town Council. When Christmas is over the tree is removed and taken to the local bakery as wood used to heat the ovens.
An environmentally friendly and less wasteful method of providing the annual Christmas tree has been explored and as a result the Bancyfelin Education Community Trust has decided a permanent tree would be an asset to the village environment all year round.
Restore Our Planet has agreed to fund the purchase of the tree with ongoing maintenance to be undertaken by members of the Bancyfelin village hall.
On completion of the tree purchase and planting a small cash surplus has allowed the village to improve its western approach by organising a further planting of trees on a strip of available land.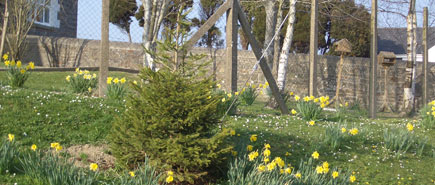 The Bancyfelin permanent Christmas tree
Photo: © Bancyfelin ECT
BACK