Community Resource Management, Ngasini-Mawala
This project is a beneficiary of the Gaia/African Biodiversity Network Micro-Projects Fund.
Ngasini and Mawala forests are near Mt. Kilimanjaro, Tanzania. Due to agricultural expansion such as pig-breeding and banana cultivation, illegal collection of firewood and the erosion of traditional beliefs and practices these forests have become severely degraded.
The National Forest Policy while recognising the existence of local forests reserves managed by local authorities also designates village reserves to be managed by the communities. These will be demarcated on the ground, management objectives defined and multi-purpose forest management plans prepared, covering all different uses of forests. This allows villages to control the rate of environmental degradation.
Granted appropriate user rights and security of tenure as incentives for sustainable forest management, local communities are likely to participate actively in the conservation of their forest resources. This project will establish new tree nurseries and organise appropriate community training regarding forests and water.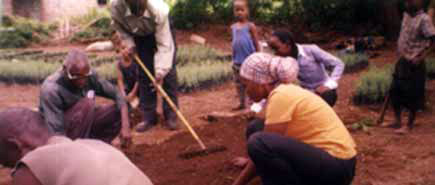 BACK