Enrichment planting in the Kazimzumbwi Forest
This project is a beneficiary of the Gaia/African Biodiversity Network Micro-Projects Fund.
This project is focused on Pugu and Kazimzumbwi Forests near Dar es Salaam, Tanzania. Both forest reserves have become severely degraded due to human`s irresponsible interaction with the environment and the consequences of severe poverty. Encroachment by farmers, businessmen and more recently pastoralists have all contributed.
The government has now recognised the shortfalls of its previous resource management approaches and has formulated new enabling policies in favour of community involvement in natural resource management which promote awareness and a shift from regulation to participatory management.
As a result community dialogues and research will be conducted on the valuable indigenous knowledge held by elders. Awareness raising campaigns regarding forest protection and tree planting will take place at schools and in the community and tree seedlings for planting will be distributed between 430 smallholder farmers and 10 primary schools.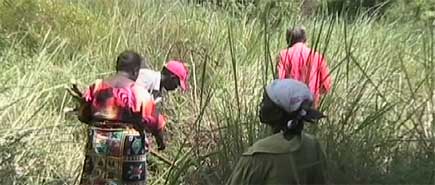 Tree planting activities in the degraded Pugu and Kazimuzumbwi forest. Photo: © VVT
BACK