The Tamale Tree and Land Use Project
This project brings together 1500 people in ten communities in the northern region of Ghana, an area increasingly threatened by rapid deforestation and resultant land degradation.
The project helps each community to establish a tree nursery, construct a well, and plant a ten hectare woodlot. In all 120,000 seedflings will be raised and planted out. 80,000 tree seedlings will be used in establishing dedicated woodlots for woodfuel, with another 40,000 planted in on farm agro-forestry systems designed to enhance soil fertility and local food security.
Two of the communities will also protect 4 hectares of degraded natural woodland to ensure its regeneration in order to further protect the land.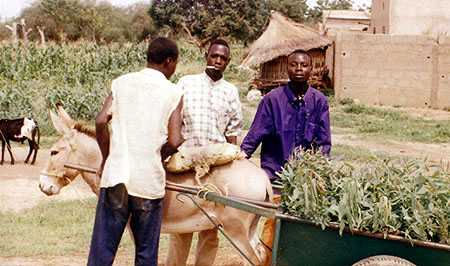 Small Eucalyptus seedlings being transported.
Photo: © TreeAID
BACK