Godere Forest Protection Alliance
Regeneration and Reforestation of the Godere Forest
This project is a beneficiary of the Gaia/African Biodiversity Network Micro-Projects Fund.
The Godere forest is in Gambella National Regional State, Ethiopia. It is unique in plant composition and wildlife diversity and provides many vital ecosystem services for the surrounding area. The local community also depends on it for hunting and gathering purposes such as the harvesting of wild honey. However it is facing heavy deforestation due to agricultural expansion, illegal timber felling for construction and firewood and a general lack of commitment from local administration to protect the forest from outside forces.
To prevent further degradation of the forest, community-based legal research needs to be organised covering advocacy strategies and activities. The latter will include building the commitment of the local administration to protect the forest; establishing the foundations for sustainable land use; preventing land expansion for agriculture; re-strengthening traditional/local ways of protecting the forests;restricting access to certain areas to assist regeneration; community tree-planting.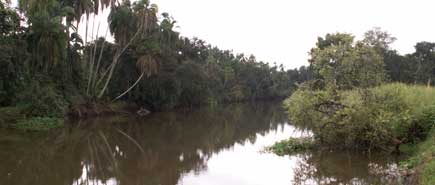 Wonani River, Godere Forest.
Photo: © GFPA
BACK