Soils and Forestry Ecosystems Conservation
65% of Mali's land area is desert or semi-desert with the country suffering from serious environmental difficulties. Trees are a vital resource with deforestation leading to soil erosion which is exacerbating food insecurity and poverty.
Our contribution to the Tamale project has over 3 years helped the communities to raise of 78,000 tree seedlings (15 different varieties) to create 3 hectares of communal wood in each of 13 villages. These communal woodlots provide fuelwood, timber, carpentry materials, for over 18,500 individual beneficiaries and therefore avoid the local deforestation that has lead to soil degradation and increasing desertification.
The planting has also provided vital food produce – by way of fruit, oil, seeds and edible leaves, and with further training in forest resource management and agroforestry provided for over 3,000 individual participants the project aims to ensure that these sustainable practices are further developed within the local communities.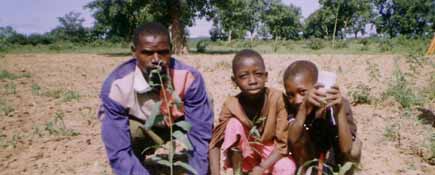 Father & children planting in Koulobougou.
Photo: © TreeAID
BACK