Sustainable Community forest resource management scheme
Ghana continues to suffer from rapid de-forestation, leading to the chronic degradation of the country's land resources, its environment and its eco-system.
The RAINS project, in collaboration with the Taimako Herbal Plant Centre, aims to address this by enabling a group of communities in Northern Ghana to recuperate their environment and diversify their sources of livelihood. These groups will halt and reverse the destruction of food trees and establish nurseries and community managed woodlots. The planting of medicinal and herbal plants and the building of a documented knowledge bank for traditional and indigenous knowledge systems will also feature.
In total 1.2 million seedlings will be nurtured, in a project involving 40 community groups and a total of over 800 participants. Over two years these groups will plant and maintain as many as 180,000 of these trees themselves – with other seedlings being sold at subsidised rates to other local communities. In combination with the increased revenues from non-timber forest products that the scheme will encourage through its Market Access Promotion Network the project aims to become self-funding within two years.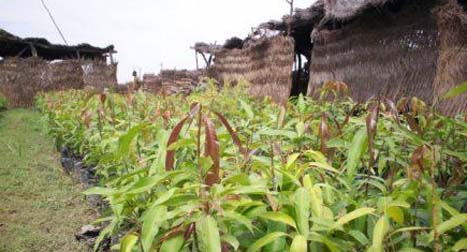 Indigenous tree nursery at Libga community, Northern Ghana.
Photo: © Rains project
BACK