The Wildlife Trust for Lancashire, Manchester and North Merseyside
Bryn Marsh and Ince Moss Restoration Project
Bryn Marsh and Ince Moss SSSI is a 20.5 hectare mosaic of reedbed, mossland, open water and associated wetlands. The site makes up a significant part of Wigan Flashes, a 240 hectare reserve formed by mining subsidence owned by Wigan Council.
The reserve has been managed by Lancashire W. T. since 1999 in partnership with the landowners, RSPB and Natural England. This area contained a number of reedbeds of reasonable quality however no management occurred. Whilst there were significant areas of wet reedbed, areas had dried out allowing willow scrub encroachment.
Lowering works carried out elsewhere on the reserve have successfully colonised with reed supporting Bitterns. Reedbed works proposed for Bryn Marsh and Ince Moss would also create pools and ditches enabling the movement of water and as a result, fish.
It is believed the proposed works will play a key role in creating habitat links which will enable the wetland to develop as a cohesive system significantly improving wildlife potential. A number of BAP species will benefit including Bittern, Reed Bunting, Grasshopper Warbler, Lapwing and Water Vole.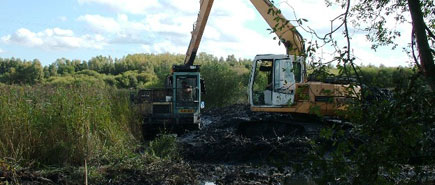 Bryn Marsh and Ince Moss restoration in progress.
Photo: © The Wildlife Trust for Lancashire, Manchester and North Merseyside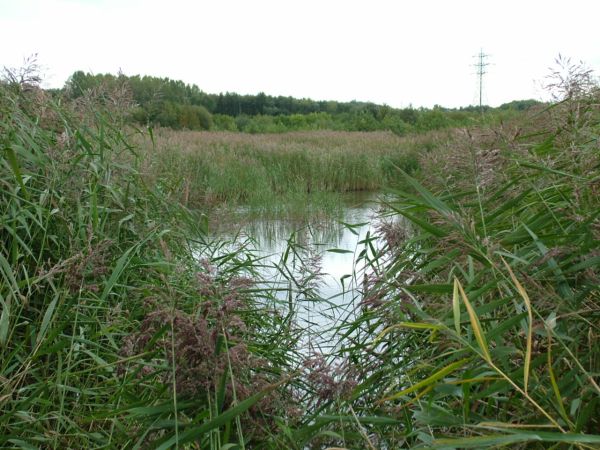 Bryn Marsh and Ince Moss SSSI.
Photo: © The Wildlife Trust for Lancashire, Manchester and North Merseyside
BACK