Rainforest corridor – North West Ecuador
Rainforest Concern protect threatened natural habitats, particularly rainforests and the biodiversity they contain, together with the indigenous people who still depend on them for their survival. To this end they purchase, lease and manage, for protection, threatened native forest with exceptional bio-diversity.
Restore Our Planet contributed to the Awacachi Corridor project to connect the Awa indigenous forest reserve in north-west Ecuador with the large central Cotacachi-Cayapass ecological forest reserve. In all, Rainforest Concern and its partners, including 'Fauna and Flora', in the UK purchased nearly 10,000 hectares of intervening 'Choco forest' land, which are now protected by the resident communities and park guards. The corridor is vitally necessary as the forests of the region are under immense pressure.
Over 90% of the forests have already been lost to agriculture in particular to oil palm plantations who directly competed for the purchase of this land corridor, along with logging concerns. These 'Choco' forests of Ecuador are also of tremendous biological value. Approximately 6300 species of vascular plant, 800 bird species, 142 mammal species and 253 species of amphibian and reptile are recorded in the area, a large proportion being endemic. Notable species being the green macaw, giant anteater and local jaguar and ocelot.
The Awacaci project tackles this crucial biodiversity conservation from many different angles; and a programme of sustainable income generation is also being established with the Afro-Ecuadorian communities in the area.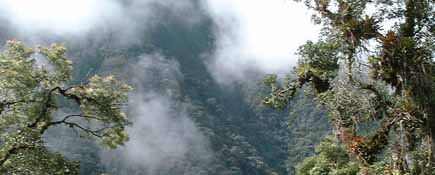 Photo: © Rainforest Concern
BACK