Restoration of indigenous forests, Manica Province
Set up by a team of experienced development professionals, MICAIA`s goal is local prosperity in a sustainable world. In practise at community level, this means that MICAIA works to enable local people to prosper in strong, diverse local economies and healthy, vibrant communities.
This project will work with communities in two parts of Manica Province, Darue/Zinguena and Chicamba within the Moribane forest. This covers 120 square kms and is a forest reserve established to include the highlands of the Chimanimani Mountains that are shared by Mozambique and Zimbabwe.
There are three areas of proposed activity. Community mobilization, training and learning; establishment of seedling nurseries ultimately using locally sourced indigenous fruit and other trees; tree-planting and seedling management.
The main objective is to restore depleted indigenous forests in Manica Province, providing increased tree cover on family plots and in depleted forest areas, protecting vulnerable forest areas and increasing local knowledge of indigenous trees and their uses.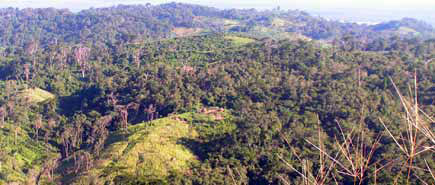 Aerial view of the forest. Photo © MICAIA
BACK