Restoring Depleted Forests, Limpopo Province
The Mupo ( meaning `wild` ) Foundation has emerged out of the African Biodiversity Network ( ABN ), a network of organisations seeking African solutions to the environment and socio-economic challenges that face the continent.
Limpopo is an area of mixed grassland and trees generally known as bushveld harbouring the Kruger National Park, one of the oldest and largest wildlife reserves in the world. This project primarily covers three areas of critical value for biodiversity and livelihoods, namely: Tshidzivhe, a protected "Holy Forest" within the massive Thathe Vondo plantation; Tshiendeulu, a sacred mountain for all Venda people; Mphaila Tswime a unique mountain where hot springs are still used for ritual and healing.
Proposed activities include;community learning dialogues;tree planting and forest protection activities;training on tree management;tree and seed exchanges for communities.
Mupo expect to achieve community rights to sacred forests recognised and secured, reforestation on community land with the rehabilitation of rivers and reservoirs, protection for endangered forests and the youth linked with elders to ensure long term understanding of natural processes and practical skills.
Restore Our Planet has agreed to fund this project initially for two years from 2008.
To see a film made on the work of Mupo click here (opens a new window)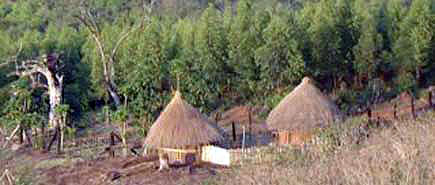 Homestead beneath the Sacred Mountain.
Photo © Mupo Foundation
BACK